To minimise time on market and ensure you get the best price for your property, it is integral when selling to consider tried and tested landscaping tips, to separate your yard from the others.
Moggill, in Brisbane's West, is one example of a suburb that attracts residents due to its large block sizes and resulting semi-rural feeling. Moggill's average block size is around 800m2 which is significantly bigger than the average Brisbane block size of 600m2*. According to CoreLogic, in the past 12 months, the housing prices in the humble suburb of Moggill have risen by 7%, suggesting Brisbane residents are increasingly opting for a mini tree-change, while maintaining easy access to a major city.
If you're considering selling a property on a large block of land to capitalise on the growing demand, it's important to understand the necessity of preparing your backyard for sale and ensuring it stands out.
These landscaping tips will add the "wow" factor and make your home feel special to potential buyers, in turn getting people to pay more for your home.
The money spent on these projects can triple in value and generate a higher market value for the home. For example, if $10,000 spent on a patio, it can increase the market value by $30,000.+
Outdoor Entertainment Area
A great outdoor entertaining area could be the deciding factor between someone buying your house or not.
Australians love to host friends and family so it is important to have a functional outdoor area. Remember to make it large enough to hold plenty of guests and covered to protect people from the summer sun.
Although requiring an initial investment, a memorable outdoor area could become the heart of the home and increase property value.
Water feature
One landscaping tip is to create a statement water feature, as this can help cement the property in the minds of potential buyers.
Water features are a way to add that extra touch to the house, and is one less thing a buyer will need to purchase when they move in.
The best bit? This feature complements outdoor activities, as you enjoy the sound of trickling water while you entertain outside.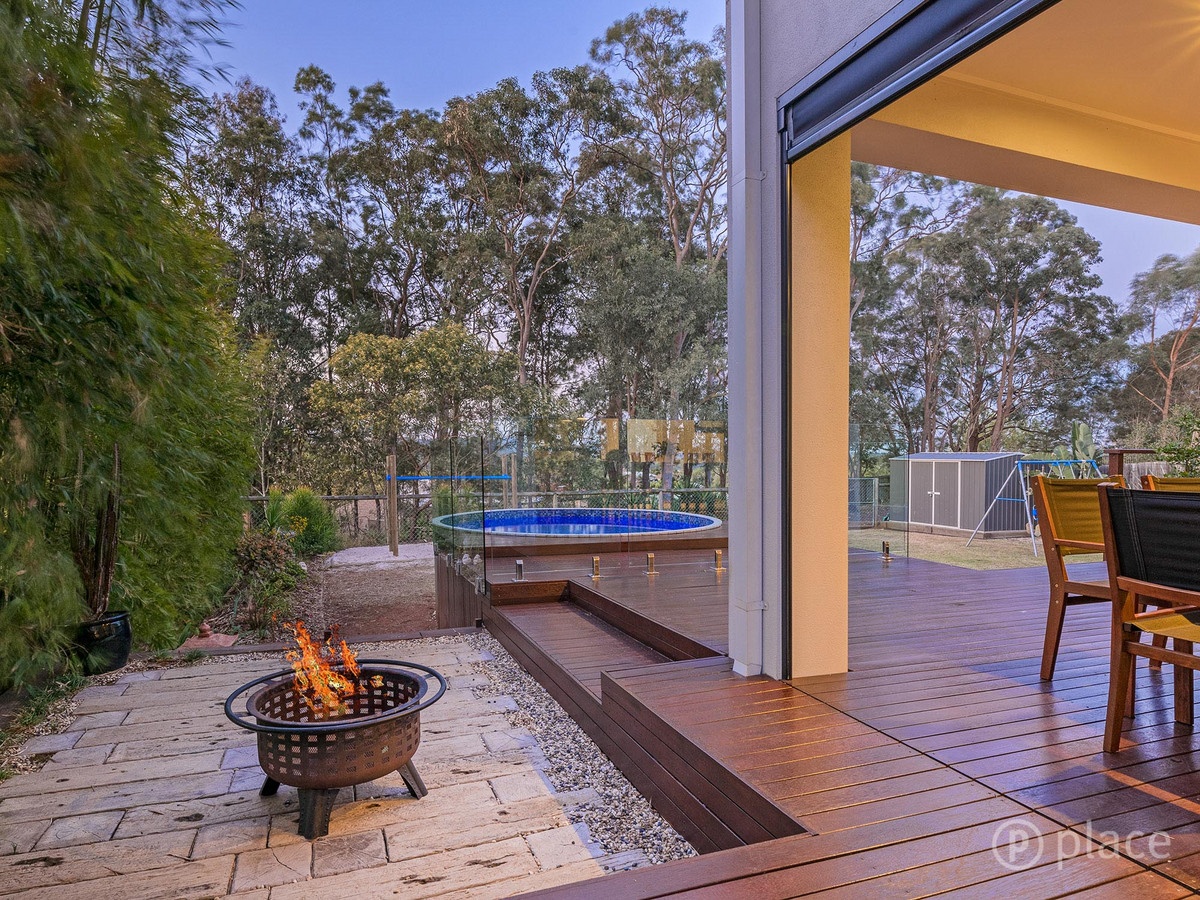 Fire pit
In the winter months, the Western suburbs, like Moggill, are notorious for becoming extremely chilly.
A fire pit is a unique, practical landscaping tip, which will allow outdoor entertainment year-round and alternate cooking options, perfect for hosting big groups or small family dinners.
Spa
Imagine sitting in a heated outdoor spa, in the peak of winter surrounded by a bushland backdrop.
This feature, unlike a pool, is cheap to run, takes up a small space, and it can be used year-round.
Portable spas cost on average between $2,000 and $12,000 depending on features and size.- They can be installed very easily and be functional within a matter of hours.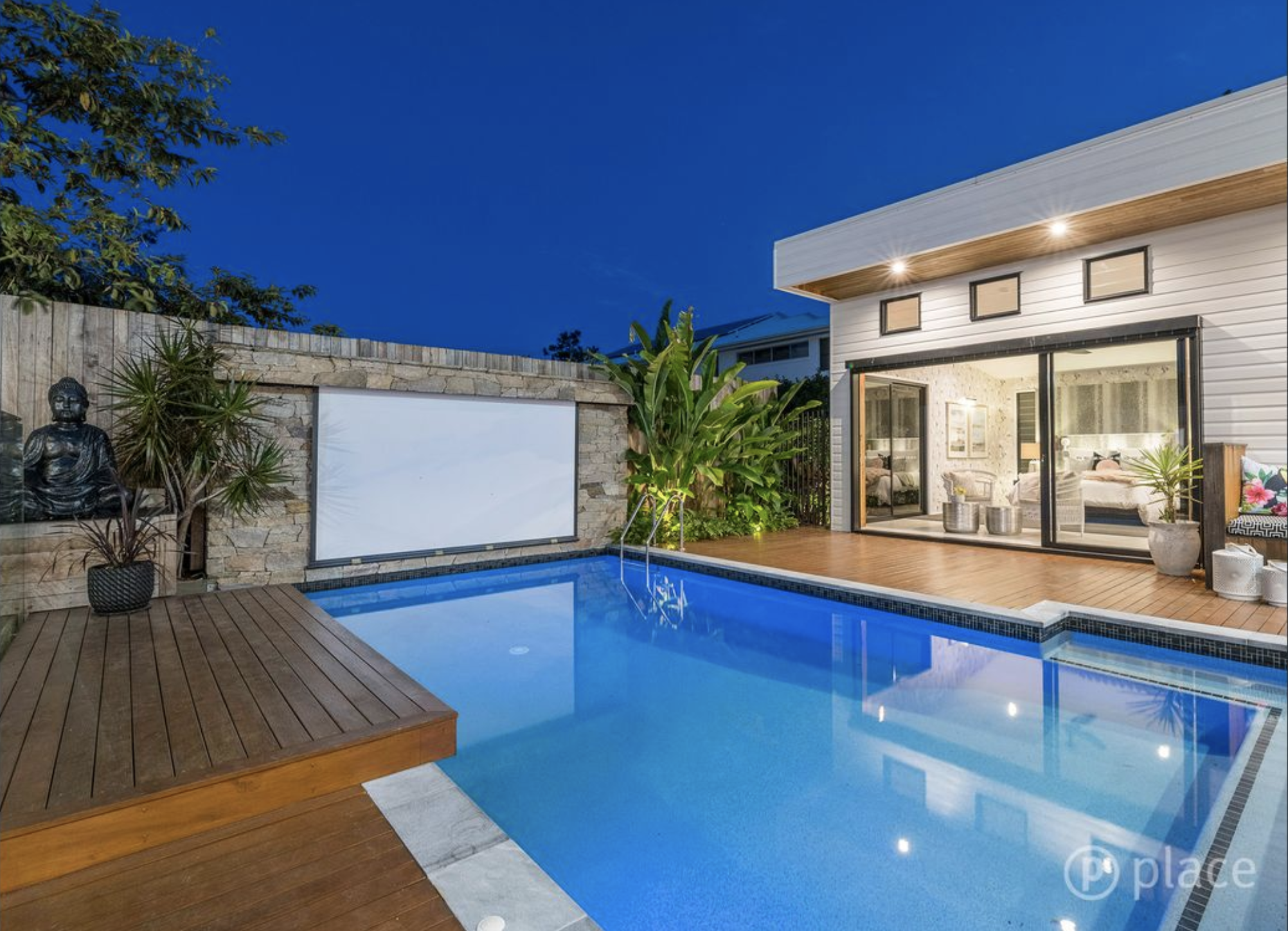 Movie screen
An outdoor projector screen to display movies is the perfect landscaping addition. This feature will turn heads and make you popular with buyers.
The system is surprisingly easy to set up and will vary from $2,000 to $10,000 depending on the quality of the system installed.
The projector screen is perfect for Moggill where the large blocks of land with foliage will create the perfect backdrop for an outdoor theatre.
Lighting
There are countless ways to use light feature in your backyard to build atmosphere, whether its to spotlight a tree, line pathways or illuminate a beautiful space. Lights are simple and cheap options to add atmosphere to your house, and with countless solar generated options now available you no longer have to worry about power points and batteries.
Adding this sort of personality to the property helps the buyer picture themselves living in the home, and is integral for evening inspections and open homes.